Exciting times lie ahead for India as we aspire to move higher in the pecking order of global economies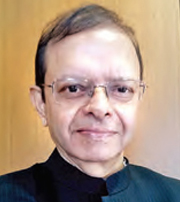 Dr. Ganesh Natarajan
The Pune International Centre has done some amazing things since it started under the watch of the very eminent Dr Vijay Kelkar and Dr Raghunath Mashelkar. Possibly, one of the most significant landmark events is the Asia Economic Dialogue, which started in 2020 in partnership with the Ministry of External Affairs and the able leadership of former Ambassador Gautam Bambawale.
This year's edition has been entirely on-line with some outstanding speakers from all over Asia and the world. I was truly privileged to be tapped along with eminent corporate leaders like Shri Kumarmangalam Birla, Dr Naushad Forbes, and Shri KV Kamath to lead a session in the dialogue. My panel, consisting of industry leaders from Vietnam, Korea, Japan and India was on building reliable supply chains in the post-Covid world.
A lot has changed in the world in the last twelve months. Covid or what former US President Trump titled "the China virus" wrecked human lives, corporate performance and country confidence around the world and there has been a substantial rethinking in relationships between countries and many challenges to the old pecking order of nations of the world. North America and Europe are already rethinking their global procurement strategies.
Will Asian countries and companies rediscover opportunities in the new global value chain? And how will the domestic and global supply chains respond to this new reorganization in the world order with China slipping from its role as desired or in some cases, the sole supply source to many parts of the world? What will be the role of artificial intelligence and new intelligent supply chains in managing the supply and demand in the new world order? Our panel deliberated on these key themes and threw up interesting epiphanies.
Asian companies have been innovating in the areas that most suit their skills and interest
New country Value Chains: Asian companies have been innovating in the areas that most suit their skills and interest. Bangladesh has done well to capture opportunities in textiles, toys, footwear by focusing on labor intensive low-cost manufacturing facilities. Vietnam and Thailand have addressed opportunities of manufacturing moving out of China due to the increasing costs in China. In India, the announcement of multiple textile clusters in the recent budget, the opportunities in agri-processing and exports of edible products, electronic and automobile components are examples where success has already begun.
India is also looking at the opportunity to get large Indian and global champion firms to grab the Productivity Linked Incentives in electronics and medical devices where four to six per cent of production value is on offer as incentives for investors who achieve their investment and production targets every year over five years. The fact that a market leader like Apple Computer has grabbed the opportunity and many others are waiting in the wings provides hope that large-scale production could create millions of jobs and a huge manufacturing base from India.
Supply Chain Reconfiguration: This needs to reach out from our countries to reach all parts of the world expeditiously. Within the country, large investments in physical, digital and social infrastructure will ensure that there is agility in the production processes with the ability to manage supplies even with a demand visibility of less than a week. The industry leader from Vietnam spoke proudly of the tremendous strides made in creating this preparedness.
Impact of Digital on Supply Chains:  Supply and demand chains of the future will need to be cognitive using real time artificial intelligence to predict changing demand patterns and nimbly switch warehousing and transportation options based on traffic in the supply chain. Investments in new digital technologies is an ongoing activity to be planned and invested in.
This thoroughly enjoyable session reinforced many realities all countries see themselves playing a role in the emerging world order. And while Europe and North America will consider reshoring or moving manufacturing back to the home country or nearshoring manufacturing to countries in their time zone, the cost advantages offered by India, Vietnam, Bangladesh, and Sri Lanka will make these countries great options to an increasingly intractable and belligerent China when countries think of a "China Plus One" strategy. However, China cannot be wished away either. Moving to a "China less" desired reality may involve many steps leading to a "less China" stage, which every pragmatic leader recognizes. As the very visionary Rajiv Bajaj underlined, we cannot stop trading relationships with China, and we must recognize that this country will play a role at least in the immediate future as a critical supplier of key ingredients in product value chains.
We may have lost a couple of decades and let China race away to a five times GDP advantage over India. However, assiduous focus on clusters and SEZs within the country and reconfiguration of supply chains in the world with India in a central position can see us grow two to three per cent faster than China every year for the next fifteen years and more and narrow the gap very substantially. Our next big project at the PIC is an elaborate policy paper that will present the opportunities for correcting the economic asymmetry with China. Exciting times lie ahead for India as we aspire to move higher in the pecking order of global economies.